Hello Friends, here are the answers to today's Amazon Quiz 22 August 2020.
The Class of 83′ – an Upcoming Crime Drama Movie
Question 4: The Class of 83′ is an upcoming crime drama movie, starring which of these actors?
Answer:-Bobby Deol
Question 5: Who was the Chairman of the Drafting Committee of the Constituent Assembly formed to write the Constitution of India?
Answer:-BR Ambedkar
If you Missed:
Question 1: National Gallery of Modern Art recently organised a virtual tour to commemorate the 150th birth anniversary of which Indian artist?
Answer:-Abanindranath Tagore
Question 2: August 6, 2020 was the 75th anniversary of which of the following events?
Answer:-Atomic Bombing of Hiroshima
Question 3: With 8 wickets in the match, who was the leading wicket taker in the first Test between England and Pakistan in 2020?
Answer:-Yasir Shah
The Class of 83 is an upcoming crime drama movie, starring the actors Bobby Deol as Dean Vijay Singh of the police academy.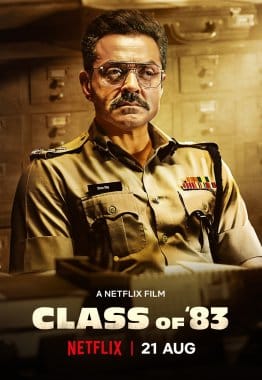 "Class of '83 is less dramatised than Aurangzeb, its tone more akin to Kashyap's docudrama approach to his masterpiece. It does not play out as a suspense thriller, but as a matter-of-fact chronicle of actual events — precise, concise, credible and as tightly drawn as a leash stretched just short of breaking point." A reviewer said.
Class of '83 demands close attention while watching. As it happens, that attention is not hard to give because the director and editors keep the proceedings riveting at all times.
Class of 83 Trailer
You can read more details about the film on IMDb.
Submit Amazon Quiz Answers Here