Hello Friends, here are the answers to today's Amazon Quiz 24 August 2020. This is a fill in the blanks question which consists of a sentence with a blank space where the participants provides the missing word or words.
Russia dubbed its new COVID- 19 vaccine as 'Sputnik 5'
Question 2:

Russia dubbed its new COVID- 19 vaccine as '_________ 5', after a famous satellite. Fill in the blanks

Answer:-Sputnik

Question 3: Which of these organizations has recently announced an aid of 1.65 million Euros to support flood victims in India, Nepal and Bangladesh?
Answer:-EU

Question 4: In a rare occurrence, Silverstone hosted two back to back F1 Grand Prix races in August 2020. What was the 2nd of those races called?
Answer:-70th anniversary Grand Prix

Question 5: ISRO's lead facility for launch vehicle development located in Thiruvananthapuram, is named after which scientist born on August 12th?
Answer:-Vikram Sarabhai

If you Missed:

Question 1: Sadbhavana Divas celebrated on 20th August every year, commemorates the birth anniversary of which former Prime Minister?
Answer:-Rajiv Gandhi

Russia dubbed its new COVID- 19 vaccine as 'Sputnik 5', after a famous satellite launched by Soviet Union.

Russian President Vladimir Putin announced that his country has developed the world's first vaccine against COVID-19, which works "quite effectively" against the virus.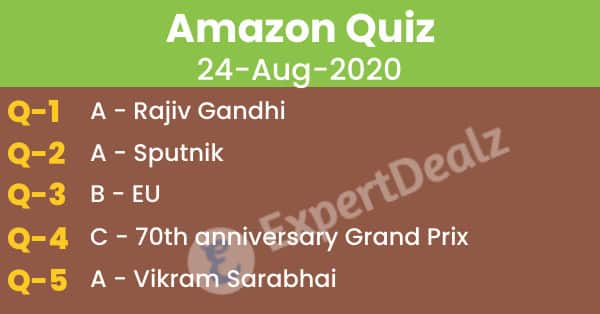 Why is it called Sputnik 5?
The COVID-19 vaccine from Russia is named after a famous satellite called Sputnik – the first artificial Earth satellite.
Did you play World Photography Day Quiz?
Submit Amazon Quiz Answers Here