The National Sports Day in India is celebrated on 29 August, on the birth anniversary of hockey legend Major Dhyan Chand. On this occasion, Amazon India has launched the National Sports Day Quiz. The quiz contains a total of 5 questions related to the famous Indian sportsperson. The contest is currently live from 21 August 2020 till 31 August 2020.
Here are your answers:
National Sports Day Quiz is LIve
Submit National Sports Day Quiz
Answers of Amazon Sports Day Quiz: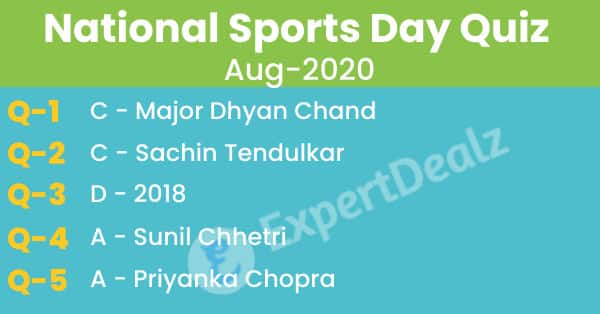 Question 1: Identify this famous sportsperson on whose birthday, National Sports Day is celebrated in India.
Answer:-Major Dhyan Chand
Question 2: The year that the famous chemist CNR Rao, got the Bharat Ratna, which sportsperson also received the honour?
Answer:-Sachin Tendulkar
Question 3: The famous sportswoman shown on screen won a Commonwealth Games gold medal in women's singles in which year?
Answer:-2018
Question 4: An Indian features in the list of top 10 scorers of all time in international football. Name the Indian
Answer:-Sunil Chhetri
Question 5: Which actress has played the role of this sportswoman on screen in a biopic?
Answer:-Priyanka Chopra
Did you play World Photography Day Quiz?
Other Ongoing Quizzes by Amazon