Task Mate is a crowdsourcing platform by Google. It's a micro-tasking platform that uses a smartphone app to link consumers with businesses and provide flexible income opportunities. TaskMate is a micro-tasking platform made by Google. It helps you complete complex projects by breaking big tasks into small ones, tasks that people with local insights can complete and get paid for. Task mate is still in the beta stage and it will continue to evolve as a product to best fulfill the needs of its customers and taskers.
The application has an active download of more than 1,000,000+ users. We tried reaching out to the Task Mate team for access and also got an official response from them.
What is Google Task Mate App?
Google Task Mate is an app by Google where users can earn money by completing simple tasks. Task Mate evolved from user research excursions to India, Brazil, Mexico, and Kenya, where it became evident that people require more possibilities to earn money.

Businesses need all kinds of information to get things done. Such as understanding popular brands in Mexico City, the best Billboard spots in Nairobi, or collecting pictures of lamps in Delhi to train a model. Collecting reliable information can be a big task, and sometimes the best way to solve big challenges is to think a little smaller.
Taskmate is a micro-tasking platform made by Google. It helps you complete complex projects by breaking big tasks into small ones, tasks that people with local insights can complete and get paid for. Using the TaskMate app, taskers from all over the world provide local information by picking up simple tasks like filling out surveys, recording audio samples, or collecting images. Use TaskMate to create and customize your own tasks from scratch, or use a library of templates to get it done faster.
While we already have the Google Opinion Rewards app that allows users to answer questions and surveys in exchange for Play Store credits. However, unlike Google Opinion Rewards, businesses across the world will be able to post tasks in Task Mate and not just Google. Also, users will be able to cash out their earnings through third-party payment apps and not as play store credits.
The app currently has 1,000,000+ installs on Google Playstore and is in Early Access stage.
Details of Task Mate App on Google Playstore
App Download Link
You can download the TaskMate app from this Google play store link: https://play.google.com/store/apps/details?id=com.google.android.apps.nbu.tinytask
Types of Users in Task Mate App
There are mainly two types of users who can use the task mate app. Requester and Tasker.
Requester
A requester is someone who needs to needs to get some work done. Requesters can easily scale projects globally with on-demand crowdsourcing of diverse workers
Here is a video of Project PlantVillage. PlantVillage was able to capture hundreds of pictures of crops on the field in Kenya with the help of Task Mate. This will be used to provide recommendations for farmers on how to boost agricultural yields and identify problems early.
Register your interest to participate in the Beta stage of Task Mate as a requester.
Tasker
A tasker is someone who performs tasks created by a requester. Task Mate is in beta and is limited to selected testers as it continues to learn more about how to provide additional earning opportunities through crowdsourcing.
List of Countries with Task Mate
Task mate is currently accessible in the following three countries. Taskers can earn money doing tasks anytime on their mobile phone.

You will be paid in local currency(i.e. INR for India) for the tasks that you complete accurately and you will need an account with a third-party payments processor. When you're ready to cash out, simply register your e-wallet or account with the payment partner in the task mate app, then visit your profile page and hit the "cash-out" button. You can then withdraw your earnings in your local currency.
How to Download and install Task Mate App
The app page currently reads: "Task Mate (beta) is limited to selected testers at the moment. Please only download this app if you have a referral code as we are unable to extend further invites at this time."
Step 1: Download the Task Mate App from Google Playstore.
Step 2: Open the app and select a Google account you wish to login with.
Step 3: After that select the suitable language(English/Hindi) and click on continue.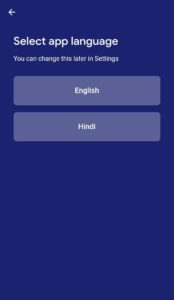 Step 4: Enter the 6 character referral code and click on Continue.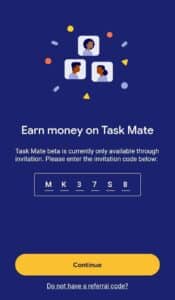 Step 5: Read and Accept the terms and conditions displayed on the screen and then proceed.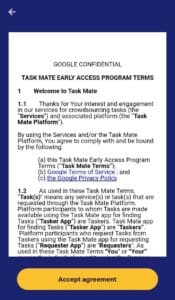 Step 6: Congratulations! Now you be able to see the available task just complete the task and earn money.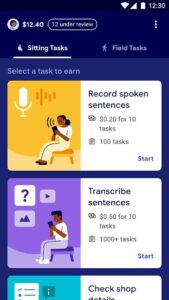 You can participate in tasks that you are interested in, or choose to skip the tasks. Tasks can be completed at any time, from anywhere.
Task Mate Referral codes and Invitation codes
Task Mate is currently in a Beta testing stage and It is only available by invitation. You can check out the latest Referral codes for Google Task Mate on Expertdealz.
Examples of tasks on Task Mate app
Some examples of these tasks available on the app are,
Take a photo of a nearby restaurant.
Answer survey questions about your preferences.
Help translate sentences from English to your local language etc.
FAQ
I no longer have tasks. How can I get more tasks?
Tasks are given based on your performance. Multiple factors can affect new tasks such as your accuracy and any previous policy violation etc. When your performance increases or pending tasks are verified, you get new tasks. However, this depends on the requester of the task.
I see a message that "this task isn't right for me." what does this mean?
Before accessing the task, the requesters of some tasks may ask for a specific skill set, which will be judged via certain questions. You may not have provided the most fitting answers to these questions. This means that this task isn't fully suitable for you. This assessment has no impact on your accuracy score. Task Mate provides a wide variety of tasks. Check other tasks that might be better suited for you.
Why does it take so long to open a task?
Due to the popularity of certain tasks, when you open tasks, you might experience delays. Make sure you are connected to the internet and refresh the screen. If the issue remains, wait for a few minutes and check again later.
Why was my task result rejected & my accuracy dropped?
If other Taskers don't agree with your answer, tasks will be rejected. This might affect your accuracy. The requester can't reject tasks but the requester can perform a "spot check" on your work. As a reminder, if you don't know the answer to a question, rather than risk an accuracy drop, click Skip.
Why are the images not loading?
Sometimes, the images provided by a requester might not load correctly. If this happens, either skip the task or check again later. If you notice this problem exists for more than 24 hours, contact us with the name of the task.
Is it required to provide my demographic information?
It's optional to provide your demographic information. If you provide this information, Task Mate uses it to show you the most relevant tasks.
Recommended Reads